Food gifts can make the perfect gift. Making a DIY meal kit gift like a gift basket with a variety of different types of food is always a hit.
Many of the best food gift ideas are DIY Meal kits, which Include mixes. You can either buy pre-made mixes or use your homemade food mixes. Remember to include the instruction card recipe.
Another option for a food gift is to make a basket full of various foods. This can be a great way to show off your culinary skills or simply give the gift of good eats. If you choose this route, make sure to include a variety of different types of food so there's something for everyone.
Finally, Give a gift from the heart by cooking a meal for someone. This is a great way to show your appreciation, and it's sure to be appreciated. Just check with the recipient first to ensure they're able to eat what you're making.
-If you know the person's favorite type of food, try to find a gift related to that cuisine.
-Foodie items like cookbooks, kitchen gadgets, or gourmet food items are also popular gifts.
Is homemade food a good gift?
There is no definitive answer, as everyone has different tastes. However, homemade food can be a thoughtful gift, as it shows that you care about the person and took the time to make something special for them.
Depending on the circumstances, homemade food can be a great gift or a terrible one. If you are close with the person and they love your cooking, then homemade food is definitely a good option. However, if you don't know the person very well or they don't enjoy home-cooked meals, it may be better to go with a different gift.
What Is A DIY Meal kit Gift?
A DIY meal kit Gift is great for anyone who loves to cook! It includes all of the ingredients and instructions they need to make a delicious meal at home.
Best Food Gift Ideas that can be wrapped or mailed.
What do you give someone that already has everything?
One great food gift idea is a dish kit or a DIY Meal kit. It's a bowl or dish filled with your favorite recipe instructions and ingredients. This gift is sure to please any food lover, and it's easy to assemble!
Just gather up the dry And nonrefrigerated ingredients for your recipes, and put them in a festive container or bag. Then, simply place them in the dish that you are giving, attach a card with the cooking instructions, and you're done
A casserole dish is a great gift for someone who has everything. It's practical and useful, and it can be used to make all sorts of meals. Plus, it's a pretty gift that will be appreciated by any recipient. Hopefully, you can also give it to them with your favorite casserole dish already prepared. Or place all the ingredients the mean inside the and wrap it and give it as a gift.
Other DIY Meal kit Ideas
Ditch the takeout and make your own meal with a DIY Meal kit! The perfect gift for any avid cook, You include all of the ingredients needed to whip up a tasty dinner at home.
Gift a picnic basket with all the dry ingredients needed for a picnic lunch or dinner. Include a card with cooking instructions.
Some ideas and ingredients to put in your picnic basket Meal Kit.
Variety of premade mixes or homemade, Spaghetti seasoning mix, Italian dressing mix, Cookie mix
Pasta variety Spaghetti NoodlesSpaghetti,Tortellini,Fusilli,Lasagna noodles,Penne
Jars of sauces, like pesto alfredo, etc. Homemade spaghetti sauce
Other items are A loaf of Italian bread, Parmesan cheese, a bottle of red wine, candlesticks, and a pasta ladle.
Gift a stew pot with soup recipes and ingredients like dried beans, dried red chili peppers, chili powder, cayenne pepper, cumin, and a chili recipe. Also, can gift it with tomato juice and an oven mitt. Or give it with a jar of homemade soup. Make your favorite soup. Deliver in a jar or soup tureen. Include: A loaf of bread or crackers Soup ladle
What is a good food gift for a loved one?
One food that is always a good gift for a loved one is breakfast in bed. If you don't have a food tray, consider getting one.
Pile the breakfast tray with their favorite breakfast items. And serve them in bed. This can be anything from pancakes to eggs and bacon. Whatever your loved one enjoys, make it for them and they are sure to love the gesture.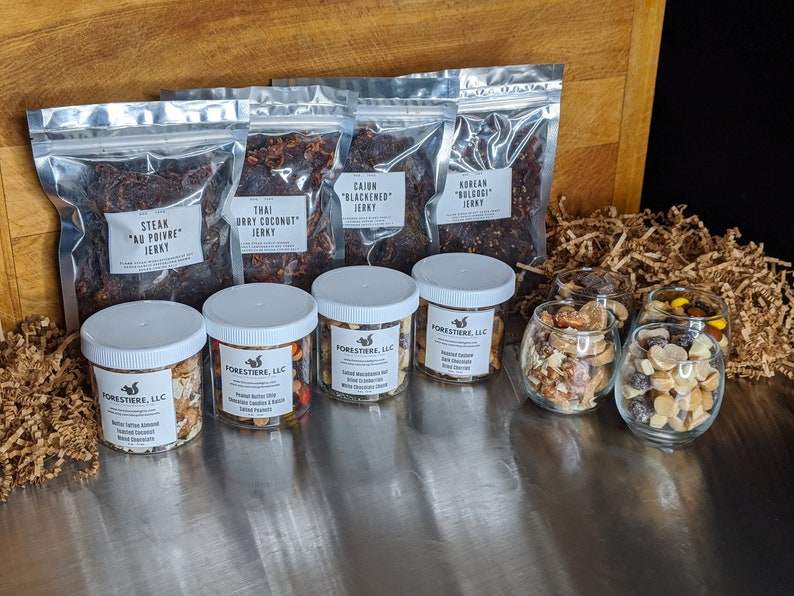 Jerky and Nuts Make Great Gifts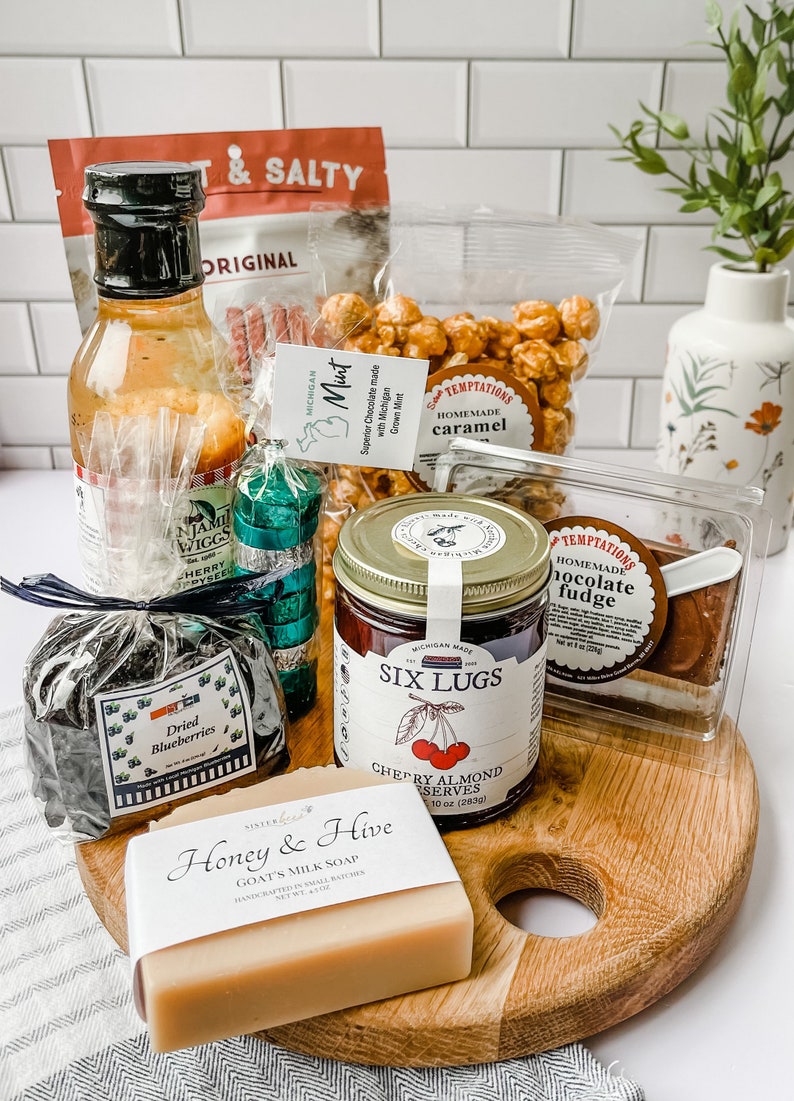 Gourmet Foods Make Great Gifts Too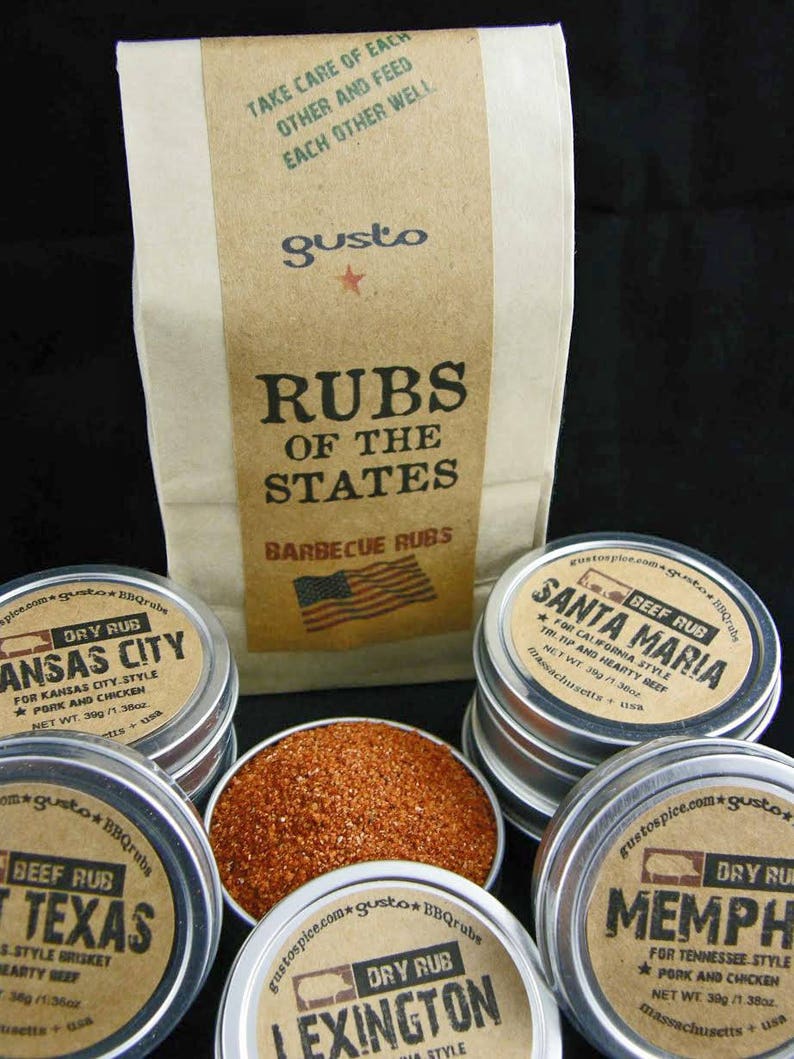 Meat Rubs Are Great Gifts As Well
How can I surprise someone with food?
There are many different ways to surprise someone with food. One way is to cook a dish in a Cast iron skillet that they may not expect.
one of the easiest ways to surprise someone with food is to make a meal that can be easily shared. Some cast iron skillet dishes include bacon-wrapped asparagus, brussels sprouts with bacon, chicken and bacon skillet, cheesy bacon skillet potatoes, and pork chops with bacon.
Cast iron skillet dishes!
What other types of food can you make in a cast iron skillet?
1. Bacon-wrapped dates: These sweet and savory treats are the perfect appetizer for any occasion. Wrapping bacon around pitted dates creates a tasty, bite-sized snack.
2. Homemade pizzas: Pizza is always a crowd-pleaser, and it's easy to make a personalized pizza for your loved one. Choose their favorite toppings, and you're good to go!
3. Pork Chops with bacon can be cooked in a single skillet and served up for everyone to enjoy.
Hot pad
Pancake mix
Maple syrup
Blueberry syrup
Pancake turner
Recipe card
Stir-fried rice
Wild rice mix
Soy sauce
Teriyaki sauce
Stir-fry sauce
Chopsticks
Fortune cookies
Chow mien noodles
You may be interested in…